Sam B Takes
Record Label to Court

for Income for "No Room in Hell"
Sam B, the eccentric rapper known for rap classic "Who Do You Voodoo", has taken his record label to court for unpaid royalties from a track released while he was falsely reported as dead.
He's claiming he is owed this income, despite his disappearance, due to terms in the contract he signed with the label – which the label disputes.
Not much is known about what Sam has been up to in the years between his disappearance in Banoi and eventual return to New Orleans. When asked, he doesn't break his "zombie army"-leading persona, claiming that he's been busy caught up in a conspiracy.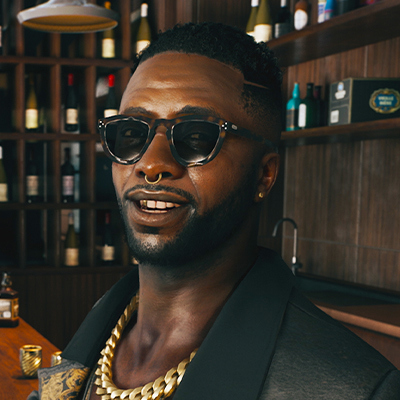 Apparently he witnessed first-hand a virus that turns people into the living dead, and was one of a small group of survivors trapped on the Pacific island by Australian military.
While critics say these kinds of remarks are a tasteless PR tactic that makes light of the deadly tropical storm that ravaged the Banoi archipelago, Sam B has still found an audience for his bizarre claims. A growing online community is convinced there really is more to the story, with forums springing up dedicated to uncovering the "truth".
Unable to reach Sam or his label for further comment, we did receive a response from a representative of Emma Jaunt. The award-winning movie star, currently in the middle of filming the next entry in the Kim Canaveral series, had a whirlwind romance with the rapper over a decade ago.
"Sam is a habitual liar," warns a member of her staff. "We're all disappointed to see the lengths he's gone to keep his name in the press in recent years. But yes, Emma still believes Sam is more than entitled to any money owed in this case."
Follow us for more updates about Sam and the trial