Hey Zombie! Alexa Game Control is coming to Dead Island 2 and will be available on PC and Xbox versions of the game in the US, Canada and UK.
Use your voice to interact with zombies, swap your weapons, call up your map, and more.
No Alexa Device Required
See instructions of how to setup below.

Only Available in US, Canada and UK
Alexa Game Control settings can be found under the Options Menu of Dead Island 2.
To use Alexa Game Control, you will need to link your Amazon account to Dead Island 2. This is done by setting Voice Commands to Enabled in the Alexa Game Control settings and following the instructions on screen to link your account via Amazon.
Once you have entered the code provided, you will be prompted to allow Dead Island 2 access to your Alexa Voice Service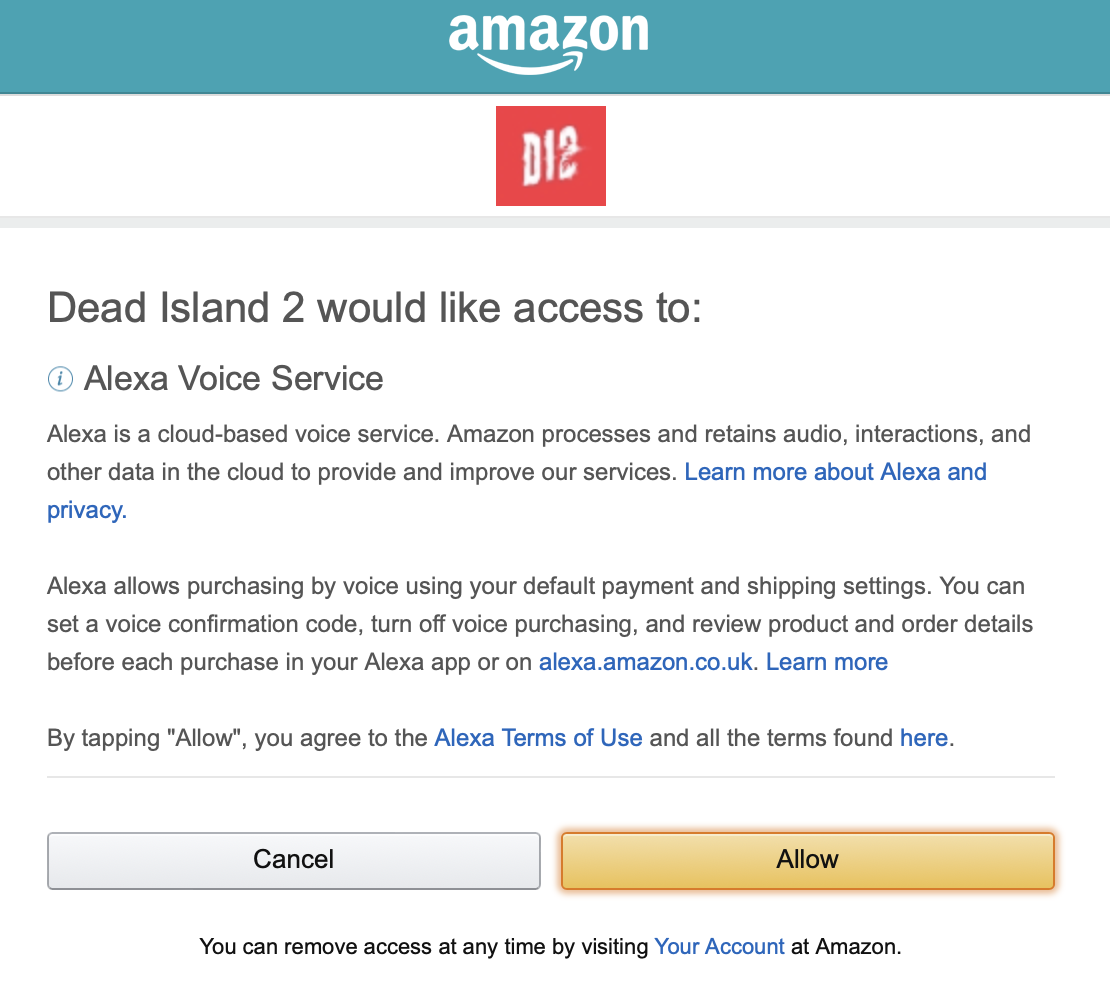 If you enable voice commands and do not link your account at the time (by closing the prompt to link your account or cancelling before allowing access), you can later link your account by selecting the 'Link Amazon Account' button on the Alexa Game Control settings screen.
Note: Alexa Game Control functionality will not be available until a valid Amazon Account has been linked.
Once your Amazon account has been successfully linked, you will see a 'Status: READY' icon on the Alexa Game Control settings screen.
On the Alexa Game Control settings screen, you can change your preferred method of activating Voice Control - Tap To Talk (Default), Push To Talk or Voice Activity. Choosing Voice Activity will also allow you to configure your input audio volume threshold setting for commands
Waypoints
Players can ask the best route to reach a Vendor/workbench/fast travel map/point of interest
"Set a marker on a Vendor"
"Where's the nearest Workbench"
"Find me a Point of Interest"
FURY
Players can activate the devastating Fury power, going berserk for few seconds. To activate fury...
"Fury On!"
"Light it up!"
"Let's hustle!"
ZOMBIE GOADING
Players can attract zombies (even specific ones)
"Burster!"
"Over here!"
"Bite Me"
WEAPON SELECTION
Players can ask for any weapon they have in their inventory
"Equip a gun"
"Best Weapon"
"Fire Damage"
EMOTE TRIGGERING
Players can command an emote animation
"Hi" – wave emote
"Good idea" – agree emote
"I need support!" – help emote