Dead Island 2 is the cover story of Game informer's January/December issue. The editorial team travelled to Deep Silver Dambuster Studios in Nottingham, England for an exclusive hands-on preview.
Game informer had a chance to play an early build of the game and interview various members of the development team to learn more about everything the exciting world of Dead Island 2 has to offer.
Read all about it in our Game Informer Hub below.
Check out the Dead Island 2 Game Informer cover in all its pulp glory!
The magazine it's also being printed in a Limited Gold edition. We are kicking off a competition where you can win one of those few copies, signed by the Dambuster Dev team.
Discover how to win this Limited edition below!
Khan, Dambuster's lead narrative designer, answers one of the most popular community questions: 'Why is Dead Island 2 set somewhere that's is apparently not an island?'
Meet Dani, one the six new playable slayers in Dead Island 2. Read all about how this Irish Punk Rocker found herself in the middle of Hell-A.
Introducing Ryan, a charismatic Californian not exactly happy to carry the hero role. Game Informer sat down with Dambuster to get under the skin of this reluctant hero.
Learn how Dead Island 2's audio team uses horror sound design to transform everyday groceries like watermelon, pasta, and grapefruit into the sounds of zombie's blood and guts.
Weapon Durability will be a big part of Dead Island 2 when it hits PlayStation and Xbox consoles, and PC, on April 28. Learn how the studio balance that mechanic as a useful instrument in guiding players.
Head over to our Twitter page and tell us what three things you would take to HELL-A and tag a slaying buddy! The five best anwers will win a limited gold print edition of the Game Informer signed by the developers at Dambuster!
The five best anwers will win a limited gold print edition of the Game Informer signed by the developers at Dambuster!
Get the latest updates
Don't miss out on any of the gory details – make sure you sign up to our newsletter for all of the latest on the upcoming showcase direct to your inbox below:
Newsletter
signup
Sign up for updates and follow the instructions to redeem the Tricksters Smile Knife in-game weapon ready for 04.28.2023.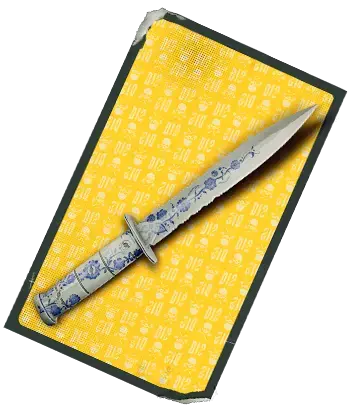 Get the
Tricksters' Smile Knife

bonus in-game weapon

STEP 1
Sign up for the DI2 newsletter.
STEP 2
Follow the instructions in the newsletter confirmation email and register for a PROS account.
STEP 3
Unlock the Tricksters' Smile knife bonus.