Everything you need to know about
co-op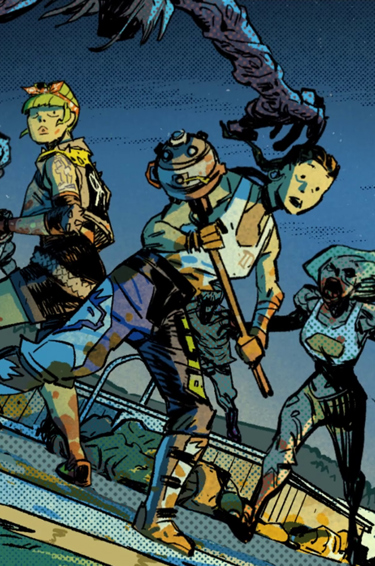 Dead Island 2 is a great single-player experience, but it's fun to play with friends too as playing together has always been essential for our community. Co-op supports up to three players. You and your potential other two teammates have six characters to choose from, and your fellow co-op Slayers won't... well, shouldn't hurt you. So, let's dive into everything you need to know about co-op in Dead Island 2!
When does co-op unlock?
You unlock the co-op feature once you reach Emma's mansion. That will happen during the 'Call the Cavalry' mission, around 20 to 30 minutes into the game (depending on your playstyle).
Cross-gen
First of all, while Dead Island 2 doesn't support cross-play, it does support cross-gen. What exactly does this mean? PlayStation 5 players can play with PlayStation 4| Pro owners; the same goes for Xbox. You can join forces with Xbox Series X|S players if you own an Xbox One|S|X.
How to connect?
The games aren't hosted on servers; they use the peer-to-peer model instead. This means the first player hosts the game, and the second and third join them. Due to the game's graphic requirements, the host must play on the latest generation console (PlayStation 5/Xbox Series X|S) or one of the Generation 8+ consoles (PlayStation 4 Pro/Xbox One X). Base Generation 8 consoles (PlayStation 4/Xbox One|S) will not be able to host the game at launch, but they will be able to join it. We're working on giving the option to host on all consoles in the future. PC players can both host and join co-op sessions.
Who can join you and who can you join?
The co-op game session will not be forced on you - you can choose only to play solo. However, you can select co-op options in your settings if you'd like to play with others.
If you're a PC gamer, you can have others join you or join other PC co-op sessions.
If you're an Xbox Series X|S or Xbox One X user, other Xbox Series X|S or Xbox One|S|X players can join you. You can also join other Xbox Series X|S and Xbox One X co-op sessions.
If you're a PlayStation 5 or PlayStation 4 Pro user, other PlayStation 5 or PlayStation 4|Pro players can join you. You can also join other PlayStation 5 and PlayStation 4 Pro co-op sessions.
If you're an Xbox One|S user, you can join Xbox Series X|S and Xbox One X co-op sessions.
If you're a PlayStation 4 user, you can join PlayStation 5 or PlayStation 4 Pro co-op sessions.
For the best experience, when playing cross-generationally, we suggest players with the latest generation console are the host.
If a USK player is playing with friends in a co-op session, every player in the party will experience the USK version of the game for continuity. However, USK and non USK players cannot play together via public matchmaking, but can join their friends via invite.
Progress and achievements
We want players to be able to progress through the game, regardless of whether they are the host or the client. For example, if you jump into co-op and play the game up until the sixth story mission and end your session, when you come back to play – either in single player or co-op -- you will pick up from the sixth mission with all your items, stats etc. regardless of whether you were the host or client.
However, we do not want players to miss out on important story beats, levelling up, items etc. so in co-op, players cannot jump ahead of where they currently are in the story. For example, if you are at mission three and your friend is at mission six, you will not be able to join their game. They will, however, be able to lend you a hand and still return to their own progress -- unless you both play past that point together.
All gamers can unlock achievements/trophies for the missions they've completed.
Why 3 players?
In Dead Island 2 co-op players get the best experience by sticking together and slaying together. We found through extensive iteration and play-testing that capping at 3 players kept the combat challenging with just the right amount of zombies. Players can also experiment with the powerful combat synergies and the diverse but complementary builds that can be created with the skill deck.
No time to waste: HELL-A is crawling with zombies, and we're calling you a Slayer for a reason. Join forces with others and truly immerse into the Dead Island 2 world to try to put an end to the zompocalypse on April 21st, 2023. See you in HELL-A.
Get the latest updates
Don't miss out on any of the gory details – make sure you sign up to our newsletter for all of the latest on the upcoming showcase direct to your inbox below:
Tune in for more gore

In-game challenges and rewards

Regular news and updates

Exclusive content

Personalised wrap ups

Exciting competitions

Trickster's Knife on Sign Up