Introducing the HELL-A
Catwalk Collection

- Premium Character Packs in Dead Island 2
Attention all Slayers! We have just released the full lineup of Premium Character Packs for Dead Island 2 and they are now available to buy from digital stores. Every character pack contains a skin for the slayer named in the pack, and a weapon that can be used by any of the slayers, from the HELL-A Catwalk Collection. Get ready to elevate your style!
The following Character Packs are available:
Silver Star Jacob

Cyber Slayer Amy

Gaelic Queen Dani

Jungle Fantasy Ryan

Steel Horse Carla

Venice Vogue Bruno
All players who have bought the Gold, Deluxe, or HELL-A Edition of Dead Island 2 can now access the Silver Star Jacob and Cyber Slayer Amy character packs at no additional cost.
All Expansion Pass owners can also claim the Gaelic Queen Dani character pack at no additional cost.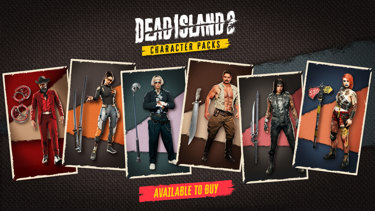 All six Premium Character Packs are available in the in-game stores on Epic Games, Xbox, and PlayStation.