Slay in Style with Dead Island 2 '
From Dusk

' Collection Skins and Weapons – available through Amazon Prime Gaming
Slayers, get ready to level up your style. Dead Island 2 has partnered with Amazon Prime Gaming to offer the 'From Dusk' Collection – a set of six-slayer skins and two weapons. Prepare to stand out in HELL-A and express your personality - slaying the zombie horde has never looked so stylish.
Amazon Prime members will be able to claim the 'From Dusk' Collection throughout 2023. The first reward, From Dusk Dani, will be available from June 15th – July 13th 2023, and includes the Legless FOMOrian skin for Dani and the FOMOrian Claws. The dates for each Amazon Prime Gaming reward will be communicated later – follow us on social channels and stay tuned for the announcements of their release dates.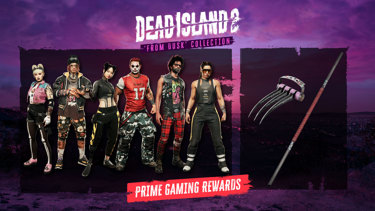 Claim your
Amazon Prime

Gaming reward
In order to claim your Amazon Prime reward, you'll need to connect your accounts. First, access the Dead Island 2 Amazon Prime Gaming page.
Connect your Amazon Prime Gaming account with your PROS account in the connections area in the PROS portal: https://prismray.io/account/connections
You must grant the connection between both accounts in the connecting process.
Once your accounts are linked, you can claim the rewards in Amazon Prime Gaming.
The claiming will be done automatically, and you will get a new message when you re-launch the game, with the information about the unlocked reward and where you can find it.
Connect your accounts now, and don't forget to claim everything From Dusk has to offer!