Unveiling the 'Til Dawn' Collection: A set of
free skins

for Dead Island 2
Calling all HELL-A Slayers! We're thrilled to share the 'Til Dawn' Collection, an outstanding set of free skins that will unlock once you reach a specific milestone in the game. Yes, you heard it right - these skins can be claimed without additional costs, ensuring that every dedicated player can change their Slayer's look.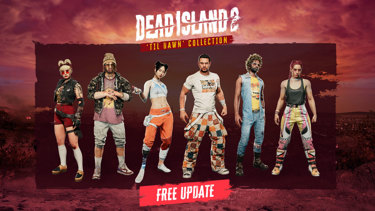 How can I unlock the 'Til Dawn' skins?
Get to know variations of well-known Slayer outfits with our new, free update. You'll need to reach the Cosplay Unlock Point to claim these skins. That will happen during the "Call the Cavalry" mission after the slayer talks to Emma Jaunt. Afterwards, you can go back downstairs, open the Storage Locker, and access your free skin in the Cosplay tab!