Patch Notes #2 -
Changes and Fixes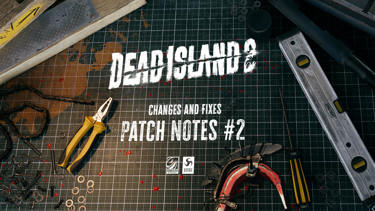 Welcome back, Slayers, to the second Dead Island 2 quality-of-life patch! We are thrilled to bring you another round of improvements to enhance your gaming experience even further. We're excited to show you all the exciting changes and fixes that await you in this update. Let's dive into the patch notes!
• Fixed the "Max Headroom" issue
Fixed issue where players would sometimes not receive the Achievement/Trophy ""Max Headroom"" when reaching level 30
• Fixed the "Perks of the Job" issue
Fixed an issue where the Achievement/Trophy ""Perks of the Job"" would sometimes not increment correctly
• Fixed the "Hollywood Ending" reward issue
Fixed an issue where finishing 'Hollywood Ending' with a full inventory awards two copies of Emma's Wrath which are lost after performing a Save/Load
• Fixed Weapon-focused issues, including:
- Level Matched Weapons which were left in a Storage Locker do not revert to their original level after proceeding through any Loading Screen
- Weapons durability does not decrease while certain perks are applied
• Game HUD fixes
Ensure minimal HUD preset turns off damage numbers
• Gen 8 Consoles co-op improvements
Introducing fixes which enable players on Gen 8 Consoles to host co-op games.
>More information< on Dead Island 2 co-op
• Performance and Stability Improvements
This fixes different in-game crashes, including traveling, loading screen, and respawning during missions.